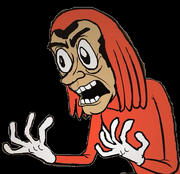 Blonic 2 is the second episode in the Blonic series. In this episode, Bluckles and Dr Eggman are developed (Dr Eggman off screen).
Plot
Blonic
decides to round up troops for a war against Dr Eggman. He goes to Bluckles who tells him he cannot fight - not after the last war - as he has lost too much. He then reveals that he is not his own original character - he is the actual Knuckles, trapped in the real world. The first few and last few seconds take place at
The Meadow
, but it mostly takes place at
The Bar
.